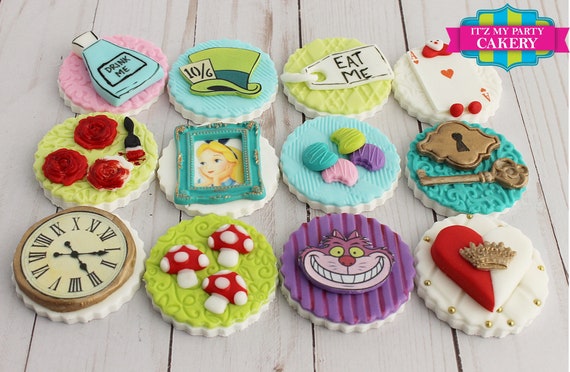 Product Info
You get 1 Dozen (12 twelve) Customized to Order cupcake toppers. They are made from a rolled sugar that dries hard. 2-d & 3-d elements are added to the toppers to enhance the themes chosen. You can special request custom colors. Please indicate in the notes section at the time of ordering or via convo. If you do not request a specific color(s), they will be made like the listing.
They can be kept as keepsakes/party favors for your guests.
They are 100% edible, including the paints used, however because the plaques are so hard, we don't recommend eating.
Size: Approximately 2.5" Diameter. (Perfect size for a standard cupcake)
Meant to be placed on standard sized cupcakes. Does not include cupcakes.
•Cupcake or Plaque Cake toppers are good indefinitely. They are made from a rolled sugar paste that dries very hard. We call them edible porcelain.
•You do NOT need to keep them refrigerated OR frozen. They are meant to be kept at room temperature.
•Store cupcake /cake toppers at room temperature. Do not let your cupcake /cake toppers get wet, as this may cause the edible colors, wording or design to smear or run or stick to the packaging.
•Cupcake/Cake toppers typically will not melt in high heat (I ship to the hottest states all summer)
•Cupcake/Cake toppers are made in a commercially licensed, inspected & insured kitchen
Please note: Every cookie/cupcake topper/cake topper/ Cake Pop is unique and may vary slightly from the photo and from each other. In addition, the specific colors displayed on your viewing device may vary from the actual color.
ALLERGY INFO/Disclaimer: Our kitchen is NOT a nut-free facility. We do take great care in NOT cross contaminating while baking. If you have ANY severe food allergy, PLEASE be aware that our products are made on equipment shared with products made with peanuts, tree nuts, milk, wheat, & eggs or other allergens not described.