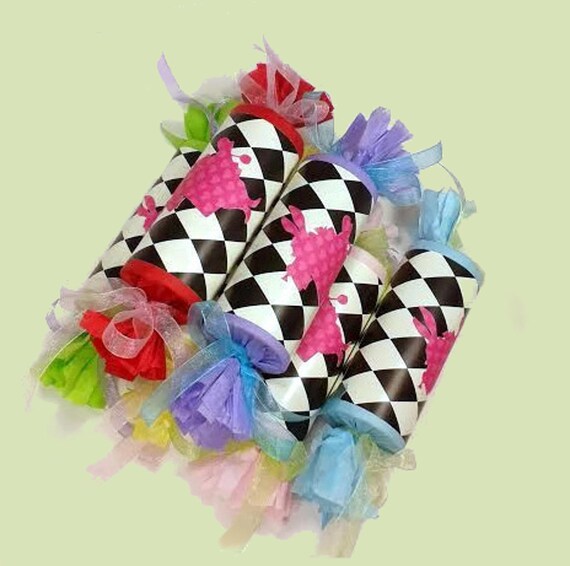 Product Info
Alice in Wonderland Cracker Snap, Child Birthday party Treat Poppers, Shower Tea Party Favors
6 CHECKERED ALICE IN WONDERLAND CRACKER SNAPS PARTY FAVORS
Fun party treats for adult or child's birthday, tea parties, bridal showers, baby showers or any Wonderland theme event. Indicate your choice of Adult or Child appropriate Crackers.
Set includes assorted tissue colors of
LIME GREEN * PINK * LAVENDER * BLUE * RED * YELLOW
OR
PICK YOUR CHOICE OF ONE COLOR OR ANY COLORS COMBINATION
Just mention your preference in the note to seller when ordering
WHAT ARE CRACKERS?
Crackers became a very popular English tradition at Christmas dinners and parties originating in the early 1840's and continue to be a must have at parties even today.
A cracker consists of a rolled tube wrapped in a brightly decorated paper with a twist of tissue and tied up with a bow meant to resemble an over sized wrapped sweet treat.
The cracker is pulled by two people often with arms crossed all around the table. Grasping the ends tightly and pulling vigorously, the cracker is ripped apart producing a harmless pop or "snap". The sound is made by a treated cardboard strip called a "Cracker Snap" you will see extending from each end of the tissue fringe and the friction caused by pulling it apart produces the snap.
WHAT'S IN THEM?
Once pulled apart the goodies and confetti spill out! Crackers are filled with a party novelty item, a party horn, candy, a joke or riddle and a colorful paper crown . Contents appropriate depending on the occasion specified (please indicate for Children or Adult parties).
Share the fun as everyone takes turns and reads their joke or riddle aloud round the table.


CURRENT PRODUCTION TIME IS 1-2 WEEKS for orders of 1-5 sets
Production time refers to the time it takes to make these and does NOT include the time it will take USPS to deliver them to you. Please take this into consideration when ordering for your scheduled event.
Orders of more that 5 sets may require additional time. Convo us for inquiries about your larger order.
Shipped PARCEL GROUND SELECT: 2-9 DAYS Delivery time depending on destination.
I can ONLY guarantee a ship date NOT delivery date. That will be up to the USPS

A perfect way to show your "MUCHNESS" for detail at your special event.