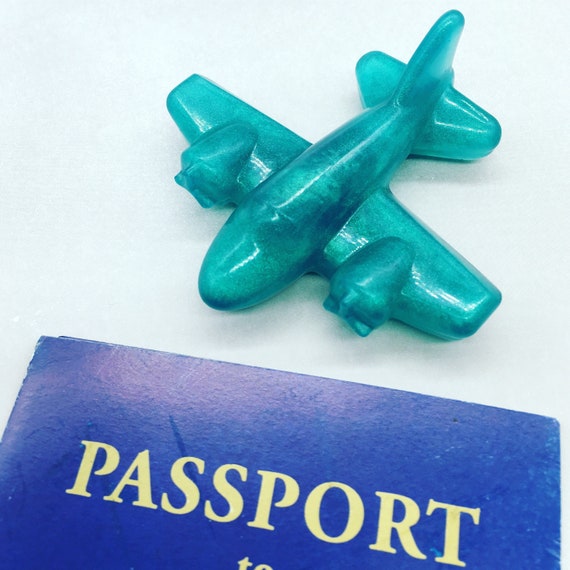 10 Airplane Soap Favors / Adventure Party Favors / Baby Shower Favors / Destination Soap Favors / Wedding Favors / Birthday Party Soap Favor
By My Soapgrams
Product Info
♥´¨)
¸.•´¸.•*´¨) ¸.•*¨)
(¸.•´ (¸.•` ♥ 10 Airplane Soap Favors!
Your Wings already exist. . .all you have to do is fly!
Our Airplane soap measures approximately 3" inches long, 1.25 inches wide & weighs about 1.4 ounces each. The soap is 3-dimensional with a flat back.
«·´`·.(*·.¸(`·.¸ ¸.·´)¸.·*).·´`·»
«·´¨*·.¸¸.*My Soapgrams*.¸¸.·*¨`·»
«·´`·.(¸.·´(¸.·* *·.¸)`·.¸).·´`·»
Color: Peacock
Scent: Fresh Linen
Size: 2.25" x 3" x .75"
Weight: 1 oz.
Packaging: Gift bagged
Quantity: 10 Airplane Soaps!
Individually wrapped
•Ingredients•
Premium Glycerin soap base(vegetable)
Coconut Oil
Palm Oil
Purified water
Sodium hydroxide (saponifying)
Sorbitol(moisturizer)
Sorbitan oleate (sweetening agent)
Natural Fragrance oils
Contact us for a custom order!
All of our Soap are individually wrapped unless specified
Our soaps are "Detergent Free" glycerin Soaps!
Our Glycerin Soaps gently cleanses the skin without stripping of the natural oils!
Our Glycerin Soaps are free of chemicals, harsh dyes or ingredients that irritate!
Our Glycerin Soaps help retain moisture in our skin!
Our Glycerin Soaps are non-irritating and hypoallergenic!
If you prefer "NO FRAGRANCE" please in message box when ordering!
♥´¨)
¸.•´¸.•*´¨) ¸.•*¨)
(¸.•´ (¸.•` ♥ All soaps are made at the time of the order. Because all soaps are handcrafted and made in small batches the color may slightly vary.
♥´¨)
¸.•´¸.•*´¨) ¸.•*¨)
(¸.•´ (¸.•` ♥ FDA requires all personal care products to be labeled with an ingredient list. We add a small label on the back of all of our soap favors. Also on the label is "PLEASE DO NOT EAT. THIS IS SOAP" The recipient will know if they are able to use the product due to allergies or skin sensitivity.
Caring for your Soap:
Your soap will last much longer if you always use a soap dish that drains well and keep your soap dry between uses.
PLEASE READ ALL THE INFO BELOW TO CUSTOMIZE YOUR ORDER.
. . . . . . . . . . . . . . . . . . . . T A G S & R I B B O N . . . . . . . . . . . . . . . . . . . . . . . . . . . . .
Because we do not offer bulk discounts, to make these favors affordable for all budgets we offer 2 different tag & ribbon options. Below is a description for each. Use the drop down menu at check out to purchase the option you prefer.
NO TAGS OR RIBBONS:
This option is perfect for a low budget! With this option all soaps are wrapped in a omplimentary ultra-clear cellophane bag. No tags or ribbons are included.
TAGS & RIBBONS:
This is our most popular option! All soaps come wrapped in a ultra-clear cellophane bag tied with a tag & ribbon. With this option, these soap favors come to you assembled and ready to give your guests upon delivery. Contact me if you have a theme or color scheme you need us to match, otherwise place your tag wording in the "note to seller" at check out and I will create a tag for you. We message you a proof before we send to print.
Great for wedding decorations, wedding party favors, cheap wedding favors, personalized wedding favors, personalized wedding soap favor, party favors, wedding party favors, party favors ideas, favors for wedding guests, wedding shower favors, bridal shower favors, affordable wedding favors, rose wedding favor, flower wedding favor, baby girl shower favors, girl baby shower decorations, cheap baby shower favors, baby boy shower favors, baby boy shower decoration, baby shower party favors, unique baby gifts, unique baby shower favors, baby shower decorations, baby shower gift, baby shower themes, personalized baby shower favors, affordable baby shower favors, rose baby shower favor, flower baby shower favor, kids birthday party favors, first birthday party favors, personalized gifts, birthday party decorations, unique party favors, boys birthday party, birthday party themes, girls birthday party, cheap party favors, baby birthday party, rose birthday favor, sweet 16 favor, flower birthday favor, plane soap, destination soaps, transportation soap favors, Airplane party favors