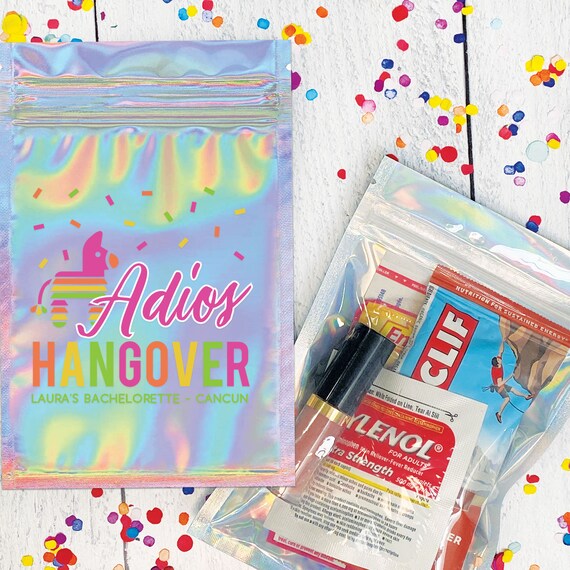 Adios Hangover Kit Bags - Mexico Party Supplies - Final Fiesta Bachelorette Party Favor Bags - Bulk Recovery Kits - Waterproof Goodie Bags
By Joy & Chaos
Product Info
If your amigos tend to fiesta a little too hard, these colorful custom hangover kit bags are a must have for your next get together! Celebrate a final fiesta bachelorette, a Mexico vacation, or any fiesta themed party with a set of these personalized holographic bags.
Each resealable bag is printed with our "Adios Hangover" design and 1 line of your custom text.
• Strong, durable material will not tear or leak
• Waterproof design keeps moisture out, great for pool, beach or boat trips
• Convenient sizes for travel to tuck in your bag
𝗣𝗘𝗥𝗦𝝤𝝢𝗔𝗟𝝞𝗭𝗘 𝝞𝗧
• Add 1 line of custom text
(30 characters maximum)
*Character limit includes spaces and punctuation.
*Text will be printed in lettering color & style shown: 𝗔𝗟𝗟 𝗖𝗔𝗣𝗦
*No non-standard characters or symbols
𝙋𝙇𝙀𝘼𝙎𝙀 𝙉𝙊𝙏𝙀:
*This listing is for the personalized bags only. No additional items are included. Photos may show additional items for inspiration - fill your bags with your own favorite essentials and goodies.
*Personalization that is incomplete, contains non-standard characters or that exceeds the character limit may cause your order to be delayed or rejected.
_____________________
𝗖𝗛𝗘𝗖𝗞 𝗧𝗛𝗘𝗦𝗘 𝗢𝗨𝗧
🎉 • Shop all "Fiesta" gifts & favors:
https://www.etsy.com/shop/JoyandChaos?search_query=mexico
👯 • Shop all bachelorette party gifts & favors:
https://www.etsy.com/shop/JoyandChaos?section_id=25476927
_________________________
𝝗𝗔𝗚 𝗗𝗘𝗧𝗔𝝞𝗟𝗦
• Reusable waterproof bags
• Resealable zip-top closure
• Durable, tear-resistant PE material
• Non-toxic and food safe
• Holographic iridescent back
• Clear easy-view front
• Digitally printed
𝝗𝗔𝗚 𝗦𝝞𝗭𝗘𝗦
• 4x6" bag = 3.6 x 4.5" inner size
• 5x7" bag = 4.3 x 5.5" inner size
𝝗𝗘𝗙𝝤𝗥𝗘 𝗬𝝤𝗨 𝝤𝗥𝗗𝗘𝗥
Please measure your items to choose the size that will work best for you. Draw a rectangle the size of the inner bag measurement on a piece of paper. Then place what you are planning to put inside the bag inside the rectangle to see which size will be best.
𝙋𝙇𝙀𝘼𝙎𝙀 𝙉𝙊𝙏𝙀: Due to variations in each device's display settings and calibration, printed colors may sometimes appear different or less bright than what you see on your screen.
_____________________
𝗣𝗥𝗢𝗗𝗨𝗖𝗧𝗜𝗢𝗡 + 𝗦𝗛𝗜𝗣𝗣𝗜𝗡𝗚
• Current production time: this will ship 3-5 business days after placing your order
• All customized items are printed to order especially for you & are a final sale.
Please read through all details before purchasing. We are here to answer any questions you might have!
• Click here to view all shop policies and current shipping information: https://www.etsy.com/shop/JoyandChaos/#faq
𝗘𝗦𝗧𝗜𝗠𝗔𝗧𝗘𝗗 𝗗𝗘𝗟𝗜𝗩𝗘𝗥𝗬 𝗧𝗜𝗠𝗘
• All stated delivery date ranges are 𝗘𝗦𝗧𝝞𝗠𝗔𝗧𝗘𝗦 𝝤𝝢𝗟𝗬
• See all available shipping options for this item on the cart page.
• Although we cannot guarantee specific delivery dates, feel free to message us for other expedited shipping options.
★ 𝗣𝗟𝗘𝗔𝗦𝗘 𝝢𝝤𝗧𝗘: with all shipping carriers still experiencing unexpected delays, we are encouraging our customers to 𝗣𝗟𝗔𝗖𝗘 𝗢𝗥𝗗𝗘𝗥𝗦 𝗔𝗦 𝗘𝗔𝗥𝗟𝗬 𝗔𝗦 𝗬𝗢𝗨 𝗖𝗔𝗡 𝝞𝗙 𝗬𝝤𝗨 𝗛𝗔𝗩𝗘 𝗔 𝗗𝗘𝗔𝗗𝗟𝝞𝝢𝗘!
As stated in Etsy's buyer policies (https://www.etsy.com/legal/buyers/?ref=list), sellers cannot be held responsible or issue refunds for packages that arrive later than the estimated delivery date range.
____________________
𝗥𝗘𝗧𝗨𝗥𝗡𝗦 + 𝗘𝗫𝗖𝗛𝗔𝗡𝗚𝗘𝗦
• All personalized items are made especially for you and are a final sale.
• We are happy to accept returns on any unworn, unwashed and non-personalized items within 14 days.
• Shipping fee for exchanges: We will gladly ship your new item to you free of charge. You will only be responsible for covering the cost of mailing your item back to us.
• Feel free to review all of our policies here:
https://www.etsy.com/shop/JoyandChaos/#policies
___________________
𝗦𝗛𝝤𝗣 + 𝗦𝝤𝗖𝝞𝗔𝗟𝗦
🛍 • Click here to visit our entire Etsy shop: JoyandChaos.etsy.com
📷 • Follow us @joyandchaosshop
🤳🏽• Post & tag your photos #JoyandChaos
We hope you like what you see as much as we love creating it!
Thanks! ♥︎ Marlo & Lisa