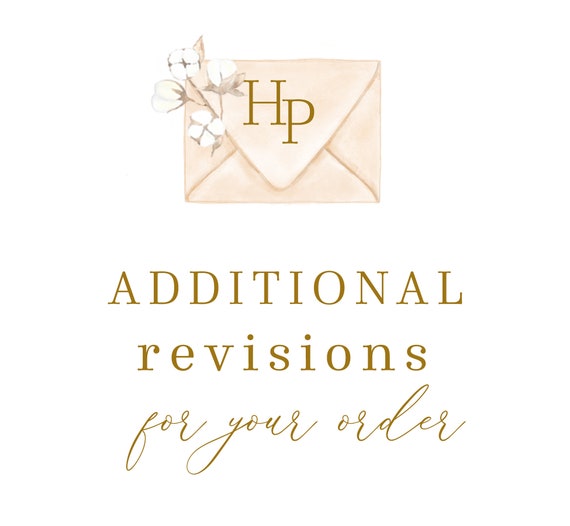 Additional Revisions Or Changes To An Already Approved Design - Hunny Prints ™
By Sea Paper Designs
Product Info
All of our custom items come with 2 rounds of revisions included with your purchase.
▬▬▬▬▬▬▬▬▬▬▬▬
PURCHASE OVERVIEW
▬▬▬▬▬▬▬▬▬▬▬▬
• Allows for 2 additional rounds of revisions on your design
• Or, purchase if you have already approved a design and need to make a change
▬▬▬▬▬▬▬▬▬▬▬▬
TURNAROUND
▬▬▬▬▬▬▬▬▬▬▬▬
• For revisions to an order that has not been approved, please allow up to 1 business day for your revision to be made
• Once an order has been closed, please allow 2 business days for revisions to be made
• Rush proofs is an option using the dropdown to receive your revision within 24 business hours (mon-fri).
▬▬▬▬▬▬▬▬▬▬▬▬
REVISION POLICY
▬▬▬▬▬▬▬▬▬▬▬▬
You are responsible for ensure that your personalized items contain the information exactly as you like it and are designed exactly as you like it when you receive your proofs. We allow 2 rounds of revisions free of charge. The first round of revisions are any changes you have after receiving the first proof. The second round of revisions are any changes you make after seeing the second proof. A third proof will then be provided, and if you have any further changes you may purchase an additional 2 rounds of revisions for $5, and $5 for each 2 rounds of revisions after that. To avoid paying additional revision costs, PLEASE review your information very carefully when submitting initially and receiving your first proof to be sure it's exactly the way you want it to be printed. **The proof you approve for print will be the version that is printed. Printed items with mistakes are not available for return, regardless of where the error originated.** Re-prints will be available to you at a reduced cost.