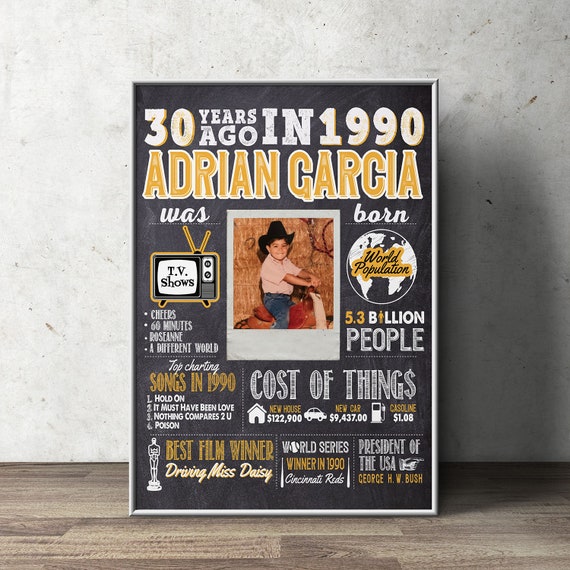 Milestone sign, Birthday sign, Digital file only,50th, 60th, 30th, 40th, 70th, birthday gift for women and men, Cheers and beers, Poster
By Lyon's Prints
Product Info
Description
DIGITAL FILES ONLY • WE EDIT • YOU PRINT
FRAME NOT INCLUDED
CAN BE EDITED FOR ANY AGE!
Faux glitter texture will not print like real glitter
► PLEASE NOTE: Your photo will be cropped inside our Polaroid template. We will not remove the Polaroid border as this artwork is sold as is shown in sample photo! Sometimes photos provided are not wide enough to fill our template so we will need to zoom in and enlarge your photo to fit properly as best as we can.
——————————
► SIZE SPECS:
——————————
SIZE: 16x20 ( if you need a different size, please add on a file size add on to your cart below)
https://www.etsy.com/listing/266566610/add-on-extra-file-set-up-charge-size?ref=shop_home_active_3
—————————————————————
► FILE DELIVERY / RUSH UPGRADE:
—————————————————————
We will edit your files and they will be emailed to the email that you have on file with ETSY within 48 hours for review after we receive your party details.
Please be sure to check your spam folder if you do not see our email within 48 hours or sooner. For fastest processing time, please leave your party details in the notes to seller section at check out or if it is too long please send it to us via an Etsy message after you check out.
• If you need your files faster, a RUSH order upgrade add on is available:
https://www.etsy.com/listing/221176261/add-on-rush-order-printabledigital-file?ref=shop_home_active_11&frs=1
——————————————————————————————
► DO YOU NEED THIS FOR A DIFFERENT COUNTRY?
——————————————————————————————
• If you need text edited for A DIFFERENT COUNTRY only please provide the text with the same categories you see in our sample photo, we do not provide text for other countries. We can edit the text, but it needs to fit in the same layout you see in sample.
Plus please also add a graphic change add on to your cart below:
https://www.etsy.com/listing/221844934/small-graphic-changes-to-any-listing-in?ref=shop_home_active_4
————————————————
► ORDERING INSTRUCTIONS:
————————————————
• Please leave the NAME, YEAR and AGE in the notes to seller section at check out
• Please send us a photo in an ETSY message after you check out
PLEASE DO NOT CROP YOUR PHOTO, WE WILL DO THAT ON OUR END. IT'S BEST TO SEND US A PHOTO WITH THE PERSON ALONE OR ELSE OTHER PEOPLE MAY BE CROPPED INTO THE SPACE. Photos should be at least 300dpi in resolution for the best print results.
• If you want a different name or nick name or anything under the photo this must be requested in order
notes before editing has begun or there will be a $5 revision fee to re-edit and email files.
• Select your accent color in the drop down.
• If you need a custom accent color, please select the custom color option in our listing's price drop down.
• For custom color orders we do require you to please attach solid square color samples of the color you want us to match in an ETSY message. You can grab them off a google image color swatch search, we cannot color match from a photo, must be a solid square color swatch picture. Please also advise if you have specific requests as to what color we change elements to on the design. Lastly, please be aware that if you change your mind after we edit your custom colors and additional color change service editing fee will apply.
————————————————
► **** DISCLAIMER *****
————————————————
• If you have specific facts for our pre-existing categories you want, you must request this at time of order and provide the facts. We do use public domain information for each year through Google searches. Please note that some google searches may show different information for facts like cost of car, cost of home etc. We use what comes up in the first search.
You are responsible for proof-reading entire file before you print. If you have an issue with any of the facts used you will need to let us know within 24 hours from time files are emailed to you!
————————————
► PRINTING SUGGESTIONS:
————————————
FOR BEST QUALITY & PROFESSIONAL FINISH:
FREE US shipping
You can order quality 16x20 prints with our printing partner Prints of Love by uploading our files to the link below
https://printsoflove.com/lyons-prints/
Also, for every order you place, Prints of Love plants a tree in your name
OR email the files into FedEx Office, Staples or OfficeMax etc
—————————————————————
► MATCHING ADULT MILESTONE ITEMS:
—————————————————————
Lawn sign design:
https://www.etsy.com/listing/783461856/happy-birthday-yard-sign-design-digital?ref=shop_home_active_6&frs=1&crt=1
Invitation
https://www.etsy.com/listing/242411573/any-age-cheers-and-beers-invitation-beer?ref=shop_home_feat_2 OR
https://www.etsy.com/listing/245940516/cheers-and-beers-invitation-beer-21st?ref=shop_home_active_9
VIP pass/ Invite:
https://www.etsy.com/listing/504691241/any-age-cheers-and-beers-invitation-beer?ref=shop_home_active_2
Placemat/Menu:
https://www.etsy.com/listing/830982618/any-age-cheers-and-beers-birthday?ref=shop_home_active_13&frs=1
https://www.etsy.com/listing/830972962/any-age-birthday-digital-placemat-design?ref=shop_home_active_6&frs=1
Lawn sign design:
https://www.etsy.com/listing/845944598/any-age-happy-birthday-yard-sign-design?ref=shop_home_active_41&frs=1
https://www.etsy.com/listing/796139701/happy-birthday-yard-sign-digital-file?ref=shop_home_active_62&frs=1&crt=1
Thank you card
https://www.etsy.com/listing/454507810/thank-you-card-any-age-cheers-and-beers?ref=shop_home_active_1
Candy Wrapper:
https://www.etsy.com/listing/479625419/any-age-cheers-and-beers-favor-beer-21st?ref=shop_home_active_2
Birthday shirt logo:
https://www.etsy.com/listing/471268687/digital-file-birthday-t-shirt?ref=shop_home_active_1
Banner sign:
https://www.etsy.com/listing/400791339/any-age-cheers-and-beers-banner-beer?ref=shop_home_active_1
Save the Date:
https://www.etsy.com/listing/385828818/any-age-save-the-date-cheers-and-beers?ref=shop_home_active_1
Custom Coasters:
https://www.etsy.com/listing/243888659/cheers-and-beers-invitation-beer-21st?ref=shop_home_active_1
Can Cooler logo:
https://www.etsy.com/listing/259935331/cheers-and-beers-koozie-beer-21st-30th?ref=shop_home_active_1
Beer Bottle Labels:
https://www.etsy.com/listing/245284200/personalized-digital-beer-labels-cheers?ref=shop_home_active_3 OR
https://www.etsy.com/listing/255970002/aged-to-perfection-beer-or-wine-labels?ref=shop_home_active_1
Table Sign & Memory card::
https://www.etsy.com/listing/252573629/cheers-and-beers-memory-card-sign-beer?ref=shop_home_active_1
https://www.etsy.com/listing/847140928/cheers-and-beers-memory-card-sign-beer?ref=shop_home_active_17
Party Posters:
https://www.etsy.com/listing/670890337/40th-birthday-party-decoration-digital?ref=shop_home_active_33
https://www.etsy.com/listing/657048848/40th-birthday-party-decoration-digital?ref=shop_home_active_32
https://www.etsy.com/listing/670889849/30th-40th-50th-60th-70th-birthday-party?ref=shop_home_active_34
Beer Tasting / Party poster:
https://www.etsy.com/listing/245776172/cheers-and-beers-poster-beer-tasting?ref=shop_home_active_1
Favor Tags:
https://www.etsy.com/listing/244741453/roast-and-toast-favor-tag-retro-birthday?ref=shop_home_active_1
Photo Cupcake Toppers:
https://www.etsy.com/listing/250428323/photo-cupcake-toppers-cheers-and-beers?ref=shop_home_active_4
Favor Stickers:
https://www.etsy.com/listing/291663123/favor-tag-sticker-label-cheers-and-beers?ref=shop_home_active_1
------------------------------------------------------------------------------
P O L I C I E S
------------------------------------------------------------------------------
Purchasing this listing means you have accepted our shop policies at
http://www.Etsy.com/shop/Lyonsprints/policy
———————————
TERMS OF USE:
———————————
This file is for personal use only. Lyon's Prints retains all rights.
This file may not be shared, forwarded, sold, or distributed.
© Copyright Lyon Prints, Inc. Please do not copy