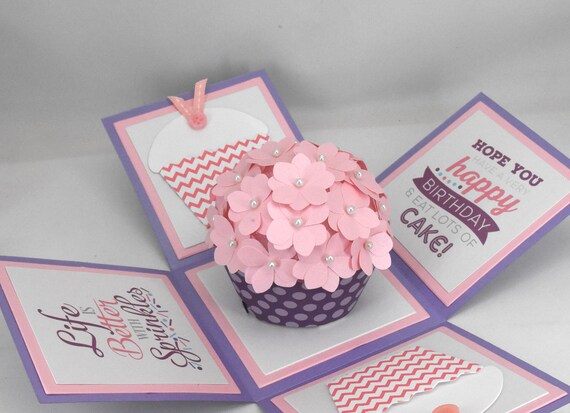 3D Purple and Pink Cupcake Birthday Card, Explosion Box Card,
By A Paper Paradise
Product Info
This 3D purple and pink birthday explosion box card with its cupcake is show to hit the spot for the keen baker, or eater, or cupcakes
A 'box' made from 110 lb shimmer pale purple card stock, decorated with a chef's hat and rolling pin. Take the lid off the box and the sides of the box fall down, to reveal a 3D 'cupcake' decorated with pink paper flowers. Two of the side flaps are decorated with paper cupcakes - the cupcakes can be removed from the cases for you to leave your personal message.
If you are giving a gift as well as the card, why not purchase a matching gift tag shown in the last photo for a coordinated presentation?
The box comes fully assembled and stands approx 4" x 4" x 4".
This item is not suitable for small children because of the pins used to decorate the cup cake.